Mosel, Eifel and Hunsrück by bike…
Ideal for motorcyclists are tours along the Moselle and on the well-known, as well as small, barely known side roads in Eifel and Hunsrück. Not far away is the racetrack "Nürburgring".
"Discover" Moselle with a bicycle…
The house Mühlenruh as a starting point for bike rides along the Moselle or in Eifel and Hunsrück. A scenic area makes one or the other climb quickly forgotten. After the stage, you can end the day in our pension quiet and comfortable.
For motorcycle and cyclist, garaging, drying room and small workshop.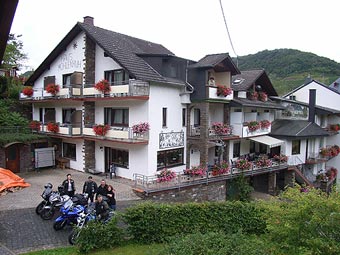 Haus Mühlenruh
Family Klimczak
Mühlenbachstraße 26
56814 Bruttig / Mosel
Germany
Phone: +49 (0) 26 71 / 79 31
Mail: info@haus-muehlenruh.de
Haus Mühlenruh
Family Klimczak
Mühlenbachstraße 26
56814 Bruttig / Mosel
Germany
Phone: +49 (0) 26 71 / 79 31
Mail: info@haus-muehlenruh.de
Free for our guests
Wifi